Cookie Statement
Cookie Statement Jan Rozing Men's Fashion
What is a cookie?
We make use of cookies on the website of Jan Rozing Men's Fashion. A cookie is a simple small file that is sent along with pages from this website and is stored by your browser on the hard drive of your computer. The information stored therein can be sent back to our servers on a subsequent visit.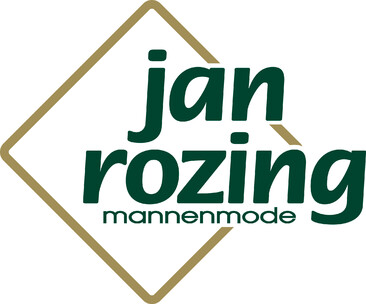 Cookies on our website
General Cookies
The website of Jan Rozing Men's Fashion sets a number of cookies to enable you to use our website. For example, it is not possible to fill a shopping basket without us knowing that you are the one who put this product in your shopping basket.
This works as follows; when you visit our website, a cookie called janrozing is set. The content of this cookie file is sent to the website on the next page visit. This way the website knows that it is you who went from page 1 to page 2 and we can use your shopping basket and other preferences on every subsequent page.
In addition, a cookie is set to remember whether you have allowed cookies or not. This sounds very contradictory, setting a cookie to identify if you have allowed cookies. Unfortunately, this is the only way to record your preferences regarding cookies and to save these settings.
We have also integrated a cookie that ensures that unauthorized cookies are never set on your very first page visit. This gives you the option to remain completely anonymous if you wish.
These three cookies are required for the basic functionality of our website, they do not process personal data and cannot be traced back to you as a user by external parties.
The cookies that are placed on the Jan Rozing Men's Fashion website;
janrozing; a cookie that ensures that we recognize you when you visit our website and fill your shopping basket / place an order.
cnt; a cookie that allows us to identify whether it is the first time you visit our website.
cookieconsent_status; a cookie that stores your choice of whether you want to allow cookies.
Analysis Cookies
In addition, we use some analytical (non-personalised) cookies to analyze the use of our website and improve it where necessary. You can think of cookies with which we can find out which pages are frequently visited. In addition, for example to obtain an overview of how long users are on our website on average, and the number of visitors we have welcomed recently.
We use these cookies in the same way as the Dutch Consumers' Association uses them on their website, and these cookies are set in such a way that they only use information that cannot be traced back to the person. We use Google Analytics and Matomo Analytics for these analyses. Read more about this below.
General Settings Cookies

In this overview you are able to see which type of cookies we use.

In addition, it is indicated which external parties we work with and use cookies for the required functionality.



Adjusting your cookie settings for our website
At Jan Rozing Men's Fashion, we provide you with the ability to change your cookie settings at any time. You can do this on the following page;
Change Cookie Settings
Local Services
This is a system that we manage ourselves, on our own servers. This data cannot be viewed by others and is not shared with external parties. We, as Jan Rozing Men's Fashion, are the only ones who can view and use this data.
Matomo Analytics
Matomo is a system that we use to analyze our website visits.
The cookies work on an anonymous basis; your personal data is not stored, and your IP address is also anonymized during processing. This gives us the opportunity to request reports on the general use of our website, but we aren't able to view specific user data. We use these cookies to improve our website, for example to map out which pages are frequently visited.
The cookies that can be set by this system;
_pk_id.****
_pk_ses.****
_pk_ref.****
Google Services
External link to Google's Privacy & Cookie Policy;
https://policies.google.com/technologies/cookies
Google Analytics
Cookies from the company Google are placed via our website as part of the "Analytics" service. We use this service to keep track of and receive reports on how visitors use the website. In addition, we use this information to improve our advertising campaigns. Here you can, for example, think of overviews that show which brands are popular, which we can use subsequently in our advertising campaigns.
Google may provide this information to third parties if Google is legally obliged to do so, or insofar as third parties process the information on behalf of Google. We have no influence on this.
We take care of anonymizing your data before it reaches Google;
Your IP-Address is expressly anonymized (the anonymizeIp option in Google Analytics)
All data is sent securely (the forceSSL option of Google Analytics)
Cookies set by Google Analytics are the following;
_ga; used to recognize a user, your data is anonymized and no personal information is sent (cookie time 2 years)
_ga_JM05S63RP2; The same cookie, specifically for the general data of our website, to enable analyzes and to keep track of session status (cookie time 2 years)
_gat_UA-34768530-3; used to enable statistical analysis, in this specific case to control the speed of data sent to Google Analytics. (cookie time 1 minute)
_gid; used to enable statistical analysis (cookie time 24 hours)
The data we send to Google is anonymized where possible. This way we retain the possibility to perform analyzes on the general use of the website, without infringing your privacy.
Google Conversions
As a website owner, Google offers the possibility to check the effect of advertisement campaigns that we place with Google. We are able to measure this effect with a number of Google Cookies. The data required for this functionality is sent anonymously; we can see at a general level which advertisements work well and which others do less well. We emphatically do not aim to find out exactly, down to a personal level, how our advertisements are used, and which people click on them.
Cookies used to measure the performance of our advertising;
Google Ads
As a website owner, Google offers the possibility to place effective personalized advertisements. For example, we can show you advertisements when you have previously visited our website and have viewed specific brands or products. In this way, you as a user will mainly see advertisements that fall within your area of interest.
Cookies that allow us to do this are as follows;
General Google Cookies to recognize your preferences
Google itself also offers the possibility to save certain preferences. Like any company, Google is not allowed to simply place cookies on your computer. In order to be able to read these settings on our website, so that Google knows which Cookies may be used on our website, Google needs a way to view these preferences. The only way to correctly store these preferences is, and this sounds contradictory, by means of a cookie.
Cookie set to store your preferences;
Google Cookie to check whether you have accepted marketing cookies from Google
Google Cookies to prevent spam, fraud and abuse
Google sets a cookie to recognize that page visits within a given browser session are actually done by you as a person. This cookie can recognize when malicious sites are acting on your behalf as a user without your knowledge. This is therefore a cookie that ensures that malicious parties cannot simply impersonate you as a user of our website.
The cookie that is set for this functionality;
Microsoft Bing Services
External link to the Bing/Microsoft Privacy & Cookie Policy;
https://about.ads.microsoft.com/en-us/policies/legal-privacy-and-security
Bingads Cookies
Bingads is a system that makes it possible for us to show targeted advertisements elsewhere on the internet. That means; Bingads does not process any personal data, but only the pages and products visited. You may then see advertisements from our website on other websites that use Bingads because you have previously visited our website. These cookies are not always set, and are also very dependent on your browser settings regarding cookies.
Furthermore, the Bingads Cookies allow us to check the effectiveness of our advertisements that we place on the Bing Network.
Cookies used by Bingads are as follows;
Facebook / Meta Services
External link to Facebook/Meta's Privacy & Cookie Policy;
https://www.facebook.com/privacy/policies/cookies/
Facebook Cookies
We set cookies for advertising on Facebook. These cookies enable us to display advertisements on Facebook, based on your areas of interest and previous visits to our website. In addition, the cookies ensure that we can perform analyzes on the effectiveness of these advertisements.
Cookies used for Facebook are as follows;
We also set a Facebook cookie that ensures the security of the Facebook network. These cookies are only set if you have previously been on Facebook and have indicated the preferences for your cookie use to Facebook. 'Datr' is a unique identifier for your browser that helps us, among other things, to protect you against fraud. For example, it allows us to identify trusted browsers that you have previously signed in to. This is a cookie that, among other things, ensures that malicious parties cannot simply impersonate you as a user.
Cookie set for this functionality;